Viewing posts categorised under: Architecture for Education
from views and vegetation to spatial hierarchy and statistical fractals, biophilia is the spine of good design
Architecture is an experience. Among the best of it, context, character, and community inform place, purpose, and point of view to shape a myriad of choices made along the way. In architecture for learning, the decisions made during design influence a learner's capacity to absorb and retain information as much as the building provides a place from which a learner obtains an education. For researchers Bill Browning and Terri Peters, Ph.D., infusing the innate human instinct to connect with the natural world into the spaces where we live, work, learn, and play is more than a matter of aesthetics; it is a mission.
"Biophilia is about accommodating the human desire and need to connect with nature in the spaces we occupy," says Browning, who is the managing partner of Terrapin Bright Green, a sustainability design and research consultancy committed to creating a healthier world. "On the simplest level, biophilic design begins with good views of nature through windows and enlivening the spaces we occupy with plants and natural materials. However, these are just 3 of 15 different patterns of biophilic design that can enhance the built environment. There is no shortage of evidence that these things improve cognitive functions, physical health, and psychological well-being."
Terri Peters, Ph.D., is an architect and an assistant professor in the Department of Architecture and Science at Ryerson University in Toronto, Canada, who has devoted her career to studying human conditions that are hard to measure.
"The most effective biophilic design solutions are holistic and immersive," says Peters. "Spatial proportions, the quality of light, textures, air flows, and smells all combine to enhance space in meaningful ways."
Through nearly 30 years of research and consulting on biophilic design strategies, Browning shares that the established science around infusing space with nature falls into three application areas.
Nature in the Space is the literal idea of adding natural influences like views, vegetation, and daylight to invigorate space by design. The second application, Natural Analogs, is the indirect experiences of nature by including natural materials, fractal patterns, and biomorphic forms in architecture that provide accessibility to nature through non-living elements. Finally, Nature of the Spaces entails spatial experiences that apply naturally occurring spatial patterns that induce a psychological sense of calm and security within a space. For example, unimpeded views through an area enhance prospect awareness, while a wall at your back and a shelter overhead provide a comforting sense of refuge within a space.
"The effects of biophilic design decisions are quantifiable. Studies in educational environments reveal that students learn better, retain more, and enjoy the overall experience of education in spaces with biophilic influences," says Browning. "Several studies prove that daylight variability improves visual acuity and keep us in tune with our circadian clock. Being able to see nature, even through a window, has an impact on our prefrontal cortex that helps restore our attention and allows learners to increase cognitive focus and information retention."
According to Attention Restoration Theory, the human brain's capacity to focus on a specific stimulus is limited – too much time on task results in directed attention fatigue. Breaking away from intense concentration in a restorative natural environment for as little as 40 seconds can reset a person's mental state from negative to positive, enabling them to resume concentration at total capacity in a relatively short period.
"In educational settings when children are allowed access to nature during the day, teachers report students return to the classroom in a calmer state of mind and are better able to get into the next task quickly," says Browning.
Peters shares that at Ryerson University, while participating in a classroom audit of campus facilities, the team found a lot of challenges related to classroom design, use, and spatial hierarchy.
"Issues as simple as walls cluttered with posters, mismatched chairs, and tables, and poor levels of light are examples of everyday basics that are easily improved," says Peters. "Next semester, we will establish a test classroom that incorporates biophilic design principles and then evaluate the student and faculty experience against unchanged classrooms in the same building. In addition, we will add plants, replace lighting with a full spectrum system and clean the windows for better light and views. We will also increase spatial variability by adding hierarchy to spaces and replace wall clutter with thoughtfully selected abstract graphics of natural patterns that we believe will have measurable positive impacts."
One of the most interesting ways biophilic design strategies enhance the experience of space is by incorporating statistical fractals. These detailed, repeating patterns are the fundamental foundation of many organic systems, existing in abundance throughout the natural world. Spiral fractals allow nature to condense itself for strength and durability against the elements; examples include pinecones, pineapples, and hurricanes. A Voronoi fractal illuminates nature's tendency to favor efficiency and relies on linking cell structure through the shortest path between points. Examples include the skin of a giraffe, honeycombs, the cells in a leaf, and foaming bubbles.
Browning was part of a team that conducted a year-long study using simple biophilic interventions in a sixth-grade mathematics classroom in Baltimore. The changes included removing most of the visual clutter of posters from the walls, putting down carpet tiles with a wavy grass biomorphic pattern, a wallpaper frieze with an abstracted palm-leaf pattern, and automated fabric window blinds with a statistical fractal pattern based on tree branch shadows. Test scores improved dramatically, and through biometric testing, the study determined that the space helped the students with stress recovery.
"Dappled light or the experience of daylight streaming through a canopy of trees in a forest has a calming effect on human minds," shares Browning. "We recently worked on a new guest room prototype for a hospitality client where we added LED lighting and a perforated metal panel to the ceiling plane above the entrance to the room. When the guest turns on the light, it casts a pattern of dappled light on the walls and floors that mimic the experience of stepping into a forest, which produced a calming effect."
Browning and Peters agree that the benefits are more than improved cognitive performance when asked about the big-picture necessity for biophilic spaces in learning environments.
"In educational design, there is an ever-increasing pressure on physical spaces to offer more than mere shelter. To be competitive, Spaces need to enhance collaboration, elevate our mood, and make people feel calm and welcome," says Peters. Unsurprisingly, Browning reveals that the corporate world leads the way on biophilic implementation in many cases.
"Corporations now realize the old model of cubical-fill workspaces don't favor chance interactions and the sense of spontaneous combustion that compels the eureka moments that can change the trajectory of success," says Browning. "To maximize the value of the real estate, workspaces and classrooms alike require openness, inclusivity, and the opportunity for cross-pollination among interactions."
Browning points out that for much of his 30 plus years of experience in the field, energy efficiency has been the focus of sustainable design strategies. In the push for planet-saving sustainability, many have overlooked the fact that the cost of operating a building is only about one percent of a business's expenses. The real value in sustainability is gained through increased human performance, personal pride of place, and the sense of satiation that comes from having access to fresh air, views of nature, and engaging interactions with others.
"In some ways, the effectiveness and simplicity of these design strategies can be intuitively obvious," finishes Peters. "Biophilic design aims to be an immersive, multi-sensory experience of nature in space. However, there's more to it than plants and views or bells and whistles. It's about using color, light, texture, and nature's ability to improve human performance. These principles can be transmitted to everything from carpet patterns to the angle of a desk to a window. In every way possible, design makes a difference."
Bio:
Sean O'Keefe is an architecture and construction writer who crafts stories and content based on 20 years of experience and a keen interest in the people who make projects happen. You can reach him at www.sokpr.com.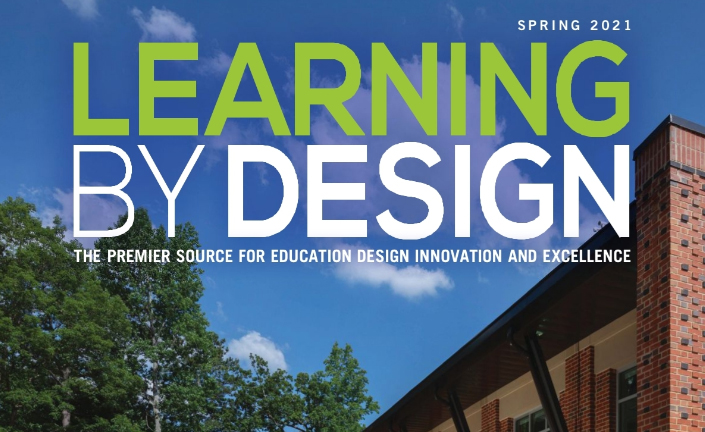 AIA-CEA's Dialogues 2020 pursues a framework for rethinking educational architecture
By Sean O'Keefe
As 2020 laid the fabric of America threadbare, systemic disparities in access to healthcare and education among people of color communities across the country were tragically exposed in vivid undeniability. As mortality rates, economic and criminal justice indicators, and educational outcomes routinely reveal, disparities disproportionately affect huge, identifiable swaths of the population in a stream of blatantly measurable ways. To ignore this is unjust. In education, where resources and outcomes are quantifiable, research shows that some 50 million American students are learning in less than equal conditions. The impacts of educational deficiencies are far-reaching, inherently complex, and fundamentally difficult to fully understand. What we do know is that we can do better, that we must.
Architecture is an opportunity. To this point, generations of architectural acumen have concentrated on harnessing the power of design to improve quality of life and well-being in spaces of every purpose and hue.
In November 2020, the AIA's Committee on Architecture for Education (AIA-CAE) and Learning By Design hosted a virtual symposium on the intersection of emerging research and design for education to rethink systems and reshape access to opportunity. Building on the findings of Dialogues 2019, the 2020 program invited a cross-section of collaborators in design, education, research, healthcare, law, and public policy for well-intended vivisection of education and the possibilities of design.
Thinking about educational design as a tool within our grasp that can beneficially impact lives in many ways, Dialogues 2020 proposes to strengthen connections between design, education, well-being, and equitable outcomes for all learners. The program's goal was to begin curating an evidence- and theory-based framework of design strategies that beneficially impact educational environments to improve the human condition. This universal design guideline for educational facilities will be supported by the AIA CAE's monthly hosted think tanks and workshops, and the newly launched Post-Occupancy Evaluation (POE) project. A POE is a structured review and critique of a design solution for a specific discipline after the facility has opened for use. The intent is to mine insights and innovations and expose incongruities between intent and success.
The big questions driving the day at Dialogues 2020 included the role of architecture in perpetuating social health and resource equality in schools; establishing partnerships; and how individual practitioners can participate. Intent on compelling an industry shift through introspection, Dialogues 2020 sought to:
understand the state of educational architecture today,
identify key drivers of change, and
establish opportunities for impact.
As a first step in exploring these questions, the AIA-CAE's POE project aims to establish a holistic framework of design indicators that architects can apply to develop learning environments. The format of Dialogues 2020 was a think-tank exploration exposing participants to researched-based understanding from expert-level speakers, complemented by group breakout sessions.
During breakouts, participants were grouped into one of five focus areas mirroring the five dimensions of 'School'- Culture, Legal, Policy, Social, and Physical. Within this, these domains encompass five rings of influence that circle the individual to shape personal behavior. In conjunction with the thought leadership understanding explored by each of the speakers, participants were asked to integrate their topical knowledge and personal understanding into the breakout conversations around one of these five domains.
Breakout teams concentrated on a series of action items:
What are the indicators of human resilience, health, and wellbeing?
What can be developed as a universal guide to future decision making?
What are the desired outcomes?
What would a resilience network to promote the desired outcomes look like?
How can this common vision be applied to inform educational design?
Briefly, here is what we learned.
Speaker No. 1: Dr. Terry Huang, Ph.D., MPH, MBA
Professor and Chair of the Department of Health Policy and Management
Director of the Center for Systems and Community Design
City University of New York Graduate School of Public Health and Health Policy
What to Consider in Developing a Framework
Based on a long history of research and policy leadership in obesity and chronic disease prevention, Dr. Huang shared his thoughts on how to create a framework for educational design. He encouraged thinking beyond health and educational components to consider the full range of influences that shape community and individual behaviors.
"Understanding connections between learning environments, individual well-being, and learning outcomes, requires a real appreciation for the role and impact of each of the five domains," said Dr. Huang. "Schools are complex systems and thinking about systemic solutions requires a holistic approach. Schools should not be designed just for efficient educational delivery or successful outcomes but must also consider health and well-being beyond the classroom."
In establishing meaningful interventions at the intersection of education and public health, Dr. Huang believes the first task is to establish a common vision for reshaping thinking.
"When trying to implement systemic solutions, we must appreciate that we're talking about real-life projects with real-life constraints," shared Dr. Huang. "A researcher thinking only about a theoretical ideal, may not necessarily understand the practical considerations of implementing theoretical thinking in a designed environment. Conversely, an architect may understand the practical influences without necessarily tying design strategies to an established theoretical basis."
Dr. Huang suggests the need for a common lexicon between designers, educators, and healthcare professionals to enhance collaboration.
"Research has found some very broad principles between effective design guidelines," said Dr. Huang. "The first is to design to increase desired outcomes. The second is for design to be founded in evidence-based theory."
Dr. Huang shared that it is not just about the hardware (the school building) but also the software (the instructional content) that activates a space. A new well-designed school cafeteria, for example, should be accompanied by a well-conceived training program so that cafeteria workers can optimize the intended benefits in their work processes.
When measuring the impacts of design on schools, Dr. Huang believes it is important to be very expansive in the mix of methods used to measure success. Understanding design's effect on learning environments as an indicator of larger cultural changes must rely on both quantitative and qualitative measures. He believes we need more longitudinal research, not just the data available immediately after the building is built and opened. While most post-occupancy studies of schools are a one-time assessment, completed soon after the building is opened, the latent effects of a design solution may take years to emerge and study. Dr. Huang advises that researchers should be on the lookout for both intended and unintended consequences.
"There is also a need to curate more partnerships between the educational design community and the educational research community," Dr. Huang continued. "We must capture practice-based evidence and establish metrics that can be universally applied to measure design changes. We also need a system of feedback loops where learned insights are presented back to stakeholders. This requires a platform of common communication that is trusted and understood."
Speaker No. 2: Peter Barrett, MSc, Ph.D., DSc
Emeritus Professor, Salford UniversityIndependent Researcher
Rethinking Systems for Educational Infrastructure
As the Founding Director of Salford University's Research Institute for the Built and Human Environment, Dr. Peter Barrett studies the effects of the built environment on the learning experience. As an independent school design researcher, he studies connections between the physical design of schools and the academic progress of students.
"One key challenge in rethinking educational systems is the level of analysis that could be done is almost infinite," shared Dr. Barrett. "How can we streamline these insights into something actionable without losing substance?"
Dr. Barrett recommends establishing guiding principles for creating such a framework. He recommends that the framework be:
Child-centered
Holistic
Context-sensitive
Dynamically emergent
Child-Centered:
Dr. Barrett also pointed out the vital necessity for any effective educational framework to explicitly state the objective of improving educational facilities for the sake of improving learning. While this is a logical inference, as a researcher Dr, Barrett illuminated science's need for specificity in task rather than supposition.
"A complete profile of the learning environment is made up of four key elements," continued Dr. Barrett. "The learners themselves should make up the central focus of education. The learner is surrounded in equal measure by the Learning Space (where they learn); the Educators (who teaches them), and the Pedagogy (how they are taught)."
In understanding the positives and negatives of learning environments, Dr. Barrett believes the learners themselves are the key to any effective effort to improve the physical manifestation of spaces for learning. In his experience, sometimes architecture goes further than it needs to, leaving little to the imagination of the learners or their willingness to take ownership by personalizing spaces to themselves.
Holistic:
Beyond a meaningful consideration of the children's point a view, well-designed schools to be holistic in their approach as well. While designers and researchers are often able to quantify sensory experiences like heat, light, sounds, smells, and appearance of a space, how much thought has been given to the opportunity for personalization of the space or the appropriate levels of stimulation within it? In his research, Dr. Barrett finds that sensory components (light, temperature, and air quality) generally account for approximately 50 percent of a learning environment's opportunity for improvement and the levels of environmental personalization and stimulus combine to account for the other 50 percent. While sensory conditions are easily measured and levels of personalization and stimulation are difficult to quantify, in terms of improving the experience of learning, they turn out to be roughly equal.
Dr. Barrett shared his thoughts on Emergent Properties, a systems theory reinforcing the notion that everything matters.
"If you are looking at high-level outcomes for concepts like health, well-being, resilience, and of course learning, you need to consider everything that impacts them," said Dr. Barrett. "Otherwise, it's difficult to understand what is causing changes in systems. There is no silver bullet. There are a lot of variables that influence systems and I believe it is better to be roughly right than precisely wrong."
In terms of safety, the physical condition of the school and the social conditions surrounding it can impact both comfort and concentration. Any learning environment that lacks the basics – electricity, potable water, sanitary drains, waste and garbage disposal, telephone, and good condition (especially damp/wet buildings) – are often associated with a high concentration of undesirable outcomes like limited opportunities to learn, negative teacher retention, and student/teacher absences related to sicknesses.
"What all of this means in the context of educational systems is that there is a disproportionate impact on the disadvantaged," Dr. Barrett said. Poorly funded schools, with substandard learning conditions, will adversely impact the chances of successful outcomes for both the learners and educators within.
Context-Sensitive:
Influences like urban versus rural communities, climate impacts, and socio-economic factors all come into play in making design choices that feel natural and culturally acceptable. While the principles of good design are often seen as universal, the application of design tenants must consider the context to which it is applied.
Dr. Barrett indicated the critical need for a wide range of user insight and influence in any successful design process. In a study of five schools intended to represent the very latest educational design, post-occupancy evaluations found that only one of the schools actually aligned with the original design objectives. Researchers ascertained that in developing four of the schools, far too much influence on the design had been exerted by the school's headmaster, with insufficient attention given to students, teachers, and other school participants. Consequently, four of the schools had been tailored to the expectations of the headmaster rather than intended educational outcomes and failed to meet objectives.
A well-balanced set of design influences should strive to combine the school's leadership, the teachers' pedagogy, the pupils and their behavior, as well as the capacity to be realized in cost and construction.
Dr. Barrett summarized. He points out that schools are built with the intent of serving many successive generations of learners, perhaps 25 to 50 years into the future. Meanwhile, changes in educational, demographics and even cultural trends happen rather quickly, and schools must be adaptable to possibly frequent change.
Dynamically Emergent:
To address a topic as complex as architecture for education, this framework needs to emerge from a dynamic, collaborative process informed by evidenced-based thinking. Even the visual complexity of a classroom impacts how successfully it facilitates learning. Too many distractions on the classroom walls and the room will feel chaotic; too few, austere. Like visual distractions, the color of a room makes a difference as well. All white walls feel boring, and bright yellow rooms seem zany; neither is optimal for learning.
Taking the model of a learner-focused educational system as a guide to what is developed for this framework, the learner should be surrounded by the where (the school), the who (the teacher), and the what (the pedagogy). The framework must allow for a balance between these influences. It must be able to evolve, and ideally, it should be measurable. Rather than a process that strives for perfection before activation, the framework should be structured to help identify recognizable deficiencies in the educational environment that can be acted upon and improved one step at a time, whenever possible.
"Ultimately, the objective is to help people see the physical environment as a crucial element of education," finished Dr. Barrett. "The better space is designed, the better it can be used actively and effectively to improve educational outcomes."
Speaker No. 3: Daniel Wilson, Ed.D
Director: Project Zero
Educational Chair, Learning Environments for Tomorrow Institute
Harvard Graduate School of Education
Leaning into Learning
As the Director of Project Zero at the Harvard Graduate School of Education, Dr. Daniel Wilson's research explores the inherent socio-psychological tensions in collaborative adult learning across a variety of contexts. His work focuses on the dilemmas of knowing, trusting, leading, and belonging and how individuals and groups use language, routines, roles, and artifacts to navigate these tensions.
Dr. Wilson's research finds outcomes are highest when there is a connection between three factors surrounding education – beliefs, practices, and settings. Societal beliefs about what education is and means influence practices and behaviors, which further shape the settings in which the beliefs are exercised through practice.
"The beliefs we have about learning explain a lot," shares Dr. Wilson. "Not only about the history of education, but also about the environments designed for education."
Education is a multi-directional process. Where educational beliefs, practices, and settings are well-aligned, we will find inspirational environments. Where they are poorly aligned, attempts to intervene for positive change will meet resistance. Design for successful learning environments must accept that learning is complex, visible, social, and informal.
Learning is not a standardized experience, but rather a complex process that happens in many ways, which depend on the individual learner. The lack of uniformity in experience makes it very difficult to predict direct pathways to learning for everyone. Learning is visible and often externalized through artifacts like tests, term papers, or even artwork, which represent individual cognition of the subject. Learning is generally socially mediated, happening through relationships with peers, teachers, and the broader community surrounding the learner. It is also somewhat informal; many effective forms of learning are self-directed and happen when the individual establishes a sense of autonomy by setting goals and assessing personal progress.
"One of the challenges we face in improving outcomes lies in the tools we use to measure success," says Dr. Wilson. "If we rely exclusively on outdated conceptualization of learning like standardized testing then we will continue to get a narrow view of success. We need to be very careful about the measurements we use and how we tie them to design."
Speaker No. 4: Dr. Lindsay Graham, PhD
Founder, Leader: Psychology of Space Research Program
Center for the Built Environment, University of California Berkeley
The Future Measurement of Educational Spaces
Personality and social psychologist, Dr. Lindsay Graham, specializes in the ways people form relationships with, craft, manipulate, and select spaces to fit into their lives. Combining thinking from psychology, architecture, interior design, engineering, and human-computer mediated interactions, Dr. Graham shared her experience measuring educational spaces to test design, validate success, and improve outcomes.
The Center for the Built Environment (CBE) at UC Berkeley has been using a web-based occupant-survey to assess educational spaces since 1999. The database reflects the conditions of more than 1,200 school buildings and provides an understanding of how buildings perform among standardized measures to allow for comparison.
"We are investigating what's working and what isn't in terms of many features of the indoor environment," says Dr. Graham. "Air quality, lighting, acoustics, temperature, furnishings, maintenance, and so forth. We can also break down environmental satisfaction; ease of interaction, organization and cleanliness, circulation patterns."
With more than 20 years of data from assessed educational environments, the CBE's occupant survey has become a model for post-occupancy evaluations. When Dr. Graham's team decided to take a closer look at their tool as an internal check, the investigation revealed a combination of gaps and opportunities.
"Through the years, architects and educators have talked about creating environments that are more helpful to people," continues Dr. Graham. "However, we found that our research isn't trying to measure that. Our data seems to lack an emphasis on human elements."
Where the data collected to this point focuses on environmental satisfaction, it lacks an understanding of health and wellness and social connections. While temperature, light, and air quality are readily tabulated, assessing a building's contribution to educational creativity, emotional learning, or social interaction is harder.
"We need to start measuring what it looks like to thrive," says Dr. Graham. "What are we doing right? What are occupant preferences, emotions, and needs of space? Why do we select a space and how do our needs for control and personalization influence environmental engagement?"
Dr. Graham also touched on the ideas of inclusivity and equality as being problematic. The majority of the 1,200 buildings in the CBE's survey are top-tier Class A buildings, backed by organizations that have the resources to assess their space. Poor schools are rarely even involved.
"We need to push policy to support equity and inclusion. Certification systems need to become more accessible," says Dr. Graham of ways to better measure educational architecture. "We need better tools, refocused measurements, and stronger interdisciplinary connections among stakeholders. Many measurements outside of education could be effectively applied to great benefit beyond reinventing new ways to measure old information."
Speaker No. Dr. Annette Anderson, PhD
Deputy Director, Center for Safe and Healthy Schools
Assistant Professor, Johns Hopkins School of Education
Post Pandemic: Rethinking School Design to Maximize Success for All
Dr. Annette Anderson's experience in educational equity and adequacy straddles the line between academic research and practical application through a variety of roles in both school-based positions and academia. She served as the chief executive officer and founding principal of Widener Partnership Charter School, which was the first university-assisted charter school in Pennsylvania as well as leading advisory services for School Administration and Supervision programs at the Johns Hopkins School of Education.
"Equity should be an important part of how schools are designed," shared Dr. Anderson. "Post-pandemic, we might start to shift the perception of schools as being exclusively academic to a more holistic life space," Dr. Anderson said. During the pandemic, especially in inner-city communities, schools have become a centralized rally point for the distribution of food, information on nutrition, housing, and public health services to people of all ages and segments of the population.
"We might also consider rethinking the role of educational facilities within the educational experience," continued Dr. Anderson. "We have learned very quickly that schools are not the only place learning can happen. Virtual learning is now a part of the overall experience, which opens up opportunities to expand learning well-beyond the classroom to people and places around the world."
Another long-held educational construct potentially unbound by the pandemic is the school system's reliance on an 8:00 am to 3:00 pm school day.
"Adjusting to learning remotely, operating more autonomously, and having more individual freedom, we have an opportunity to rethink what time means in education," continued Dr. Anderson. "Likewise, as students are living through this experience, they may become more aware of personal learning strengths. Are they kinesthetic learners, auditory learners, logical/mathematical or otherwise?"
Dr. Anderson believes the unavoidable shifts in social experience caused by the pandemic compel a larger shift in educational thinking. One that moves the focus of education away from a primarily academic perspective to a more holistic life-course perspective. The necessity for remote learning has now opened new content delivery platforms that can increase options and opportunities in learning, not previously considered. With remote learning platforms, like the constraints of place, the constraints of time also begin to dissolve.
"New thinking in educational design should consider the impact of flexible spaces and the capacity to build texture and warmth into future educational spaces," Dr. Anderson said. "We need to balance the need for personal safety, personal learning space, and group collaboration, while also prioritizing access to future opportunities as a mechanism to grow equity for all learners."
Conclusion
Education is an opportunity, of which architecture is a primary asset. Both asset and opportunity must be more uniformly distributed if we hope to achieve a more equitable society. In thinking about the intersection of emerging research and design for education, we need to reshape access to opportunity and educational, emotional, and social well-being for learners of all ages, social strata, and life prospects. Beyond gathering insight from a collection of elite educational environments, any holistic framework of design for learning environments must leverage interdisciplinary thinking to compel new measures of success in health, well-being, emotional and educational intelligence that positively advance the human condition for the greater good.
Author Bio:
Sean O'Keefe is an architecture and construction writer who crafts stories for Learning By Design Magazine and others based on 20 years of experience and a keen interest in the people who make projects happen. He can be reached at sean@sokpr.com.